The Renpho eye massager is quite an interesting product. It's a headset with a row of soft cushions that sits over each eye, gently inflating in series to provide the sensation of a rolling massage for your eyes. It works great for dry and tired eyes by encouraging relaxation and promoting circulation.
If you've had your eye on this product (pun intended), then you've come to the right place. We'll be reviewing the Renpho eye massager in this article today. Read on for more information.
Renpho Eye Massager
The Renpho eye massager provides your temples and eyes with a gentle rolling pressure to help relieve eye strain and get you to relax after a long day of staring at a screen. It might seem like an odd idea, though the experience that this product provides is actually a very soothing one.
The heat option works like a heated compression, and while the stock music is a bit on the boring side of life, you're able to stream your very own playlist of music or soothing sounds to the headset straight from your phone. The only real problem with Renpho's eye massager is the noise it makes.
It produces a fairly-noticeable whur when the pockets inflate around the eyes, then whines as they deflate. It's pretty difficult to ignore this sound, but other than that, this is a pretty great product, especially for folks who have a hard time relaxing at the end of the day.
Who is this product for?
If you're not averse to trying out new ways to relax, then we think you will thoroughly enjoy the Renpho eye massager. It might seem like a strange concept at first, but it's actually very effective at what it does.
Our eyes are put under constant strain every single day, since we're constantly looking at some form of screen. Whether it be our phones, computers, or televisions – there's always some kind of visual bombardment happening and you really need to give your eyes a break.
You probably know that simply closing your eyes for a bit doesn't always work. You need to take the relaxation deeper, which is exactly what this eye massager does. It provides your eyes with a deep, relaxing experience that helps reduce the effects of strain and eye fatigue, helping you wind down in the evening.
It's also a great product for people who suffer from tense temples since the headset also provides you with a simultaneous temple massage.
What's included?
You don't really get much else other than the headset and its appropriate charger when you order your Renpho massage headset, and that's what we like about it. There are no unnecessary auxiliaries.
Overview of Features
The Renpho massaging headset applies compression through a rolling movement, from your temples right to your nose, before gently deflating and repeating the process – which is extremely pleasant. The lower intensity setting is the most relaxing, in our opinion, but that doesn't mean the higher one is at all uncomfortable.
The heat function also provides an enjoyable experience, distributing gentle warmth across the inner surface in such a way that your eyes are warmed up, but never hot. It's definitely not hot enough to get you to break a sweat, though if you do get a little clammy, you can easily wipe the surface down with a clean cloth.
You'll secure the headset at the back of your head via a strap, though you won't find one on top of your head, which means it might slip down if you're sitting completely upright. This is a problem that is easily resolved by simply laying down – which we find provides a more relaxing experience overall anyway.
Unfortunately, it's really hard to overlook the noise, which is a robotic whining that sounds when the air pockets deflate and inflate. Things get even louder when you turn the vibration setting on, with a constant buzzing sent right into the temples.
How to Use It
Renpho's eye massager somewhat resembles a wireless virtual reality headset. Its shell is made using glossy ABS plastic, with hinges in the center to allow the body to bend as the airbags inflate and deflate. This kind of design accommodates different head shapes as well, while also allowing you to fold the headset for transportation.
You can charge the eye massager with a micro-USB cable, with the relative port being found at the nose bridge. A cable is provided courtesy of Renpho.
You'll find three controls, which are touch-sensitive, on the side of the headset, giving you control over the audio, power, and various massage settings. They're pretty sensitive, so you'll want to be cautious not to tap on one accidentally when you adjust the position of the headset. There's also an auxiliary remote that you can use to adjust the settings without needing to press any of these buttons.
The single elastic strap that secures the Renpho eye massager to your head can be adjusted to accommodate your face and tightened for a snug fit. The headset is pretty heavy, so you're definitely going to want to tighten that strap a bit.
Pros
Pleasant massaging sensation

Can play your own music

Even, gentle heat distribution

Folds for easy carrying
Cons
Alternatives
If the Renpho massager doesn't interest you, then you should consider the MZOO sleep eye mask. While not exactly an eye massager, this face mask is made with rebound memory foam to provide soft, plush cushioning to your eyes at night for the most peaceful sleep possible. It also places no pressure on the eyes to encourage deeper sleep.
Conclusion
If you're someone who suffers from eye strain and fatigue, then we suggest you consider purchasing your very own Renpho eye massager. It provides a wonderfully pleasant massaging sensation to the eyes that really does work to relieve them of strain, and the heat feature provides just enough warmth to further the feeling of relaxation.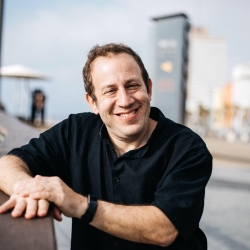 Latest posts by Jacob Maslow
(see all)
Images Courtesy of DepositPhotos
This site contains affiliate links to products. We will receive a commission for purchases made through these links.