Living in a fast-paced environment can trigger stress. Numerous studies suggest that specific breathing patterns go a long way in terms of regaining control and coping with the feeling of anxiety.
Naturally, some gadgets can help you relieve stress and feel more confident on an everyday basis. One of the most popular is the CalmiGo Anxiousness & Stress-Relief Natural Calming Device. This incredible device incorporates multi-sensory stimulation and regulates breathing patterns to achieve great results.
To help you understand this device's advantages and application process, we have prepared a thorough review discussing its highlighting points and the technology behind it.
CalmiGo Anxiousness & Stress-Relief Natural Calming Device
The CalmiGo product is recommended by health specialists across the globe for a wide variety of psychological and physiological benefits. Available in a wide variety of designs, including purple and white, with lavender, peppermint, and bergamot scents, this natural calming device revolutionizes the approach to calming breathing patterns.
Apart from the instant benefits, the manufacturer advertises that the CalmiGo device can help you cope with stress and anxiousness in the long run. How? Through stimulating your parasympathetic nervous system and providing you with clarity and enhanced focus.
Who Is This Product for?
To be honest, we think that almost everyone can benefit from the CalmiGo product. Its specific target group is overly stressed individuals and those that have an anxiety disorder. The fact that it comes with a sleek profile that makes it portable means you can use this calming device while on the go. Its simplicity of use means that you need to activate it for only a few minutes to regulate your breathing pattern and relieve stress.
What's Included?
This innovative device is beginner-friendly and doesn't include a variety of fancy accessories. Apart from the gadget itself, you also receive a USB charging cable that you need to keep the battery life 100% before leaving your house. In addition, CalmiGo provides its users with a detailed manual on how to charge, activate, and maintain this product.
Overview of Features
First and foremost, we want to discuss the customizable elements of this product. Apart from the fact that you can choose from white and purple, it comes with three different scents. Thus, you can invest in the lavender-based CalmiGo device, or go for the bergamot/peppermint, if you are more into the refreshing and minty scents. Deciding on the type of calming device is an important step because the calming scents are considered one of the three techniques for relieving stress and coping with anxiety.
One of the most remarkable points is that the CalmiGo product doesn't use any drugs to keep you relaxed. On the contrary, its first advantage is the stimulation of different senses to keep you focused and help you achieve clarity of mind. There are a lot of advantages related to mindfulness (psychological and physiological) that CalmiGo can help you with. With that in mind, using this device for three minutes a few times a day can help you be more productive and handle daily errands with less stress.
The second advantage of this product is that it will allow you to regulate your breathing patterns. How? By dictating your pattern through a set of vibrations and lighting hues. It is good to know that this CalmiGo is a pleasant device that is simple to use and has no adverse effects on your body. By inhaling and exhaling following the suggested pattern, you will be able to achieve a sense of calm and relieve anxiety as you are on the go.
Last but certainly not least are the benefits of smelling the chosen scent (bergamot, peppermint, lavender). All three herbs are well-known for their anti-stress effect and have been recommended for decades by health specialists. The comfort and safety of the CalmiGo device is the main reason why we would recommend it to everyone who wants to cope with stress and anxiety without using any medication.
Our main issue? The battery life isn't that great and you will probably have to recharge the device on a daily basis. Still, the many benefits and simplicity of use make it a product to consider.
How to Use it
As mentioned above, there isn't a lot of theory to using the CalmiGo calming device. The first step is to have it fully charged and slide it on. Once you have done that, inhale and exhale following the vibration/light suggested patterns. The multi-sensory stimulation, as well as the scent of bergamot/lavender/peppermint, will allow you to regain your focus and relax.
Pros
Comes in a wide variety of designs – white and purple

Uses calming scents (bergamot, lavender, peppermint) for relieving stress

Stimulates the parasympathetic nervous system and activates different senses

Offers a guided breathing pattern through light and vibration hues

Sleek and sturdy profile, perfect for using on the go
Cons
Shorter battery life when compared to similar products
Alternatives
If you are not completely convinced by this CalmiGo product and want to consider another option, below is a worthy alternative that we also really like.
One of the best ways to achieve a state of calm is through meditation. With that in mind, you will love this app-controlled product that can help you visualize meditations and enter a state of Zen in the middle of the day.
It is lightweight and portable, making it a perfect device if you are on the move. Not only that, but the app is beginner-friendly, instructing you on the different biosensing indicators, including BPM, blood pressure, and breath coherence.
Wrap Up
It is safe to say that CalmiGo is a beginner-friendly device that can help you fight stress in the short and long term. It uses three different techniques, including calming scents, multi-sensory stimulation, and breathing patterns to guide you towards a calm state without the use of medications. The only downside is that the battery doesn't last for very long, but this is not necessarily a big problem if the upsides are worth it for you.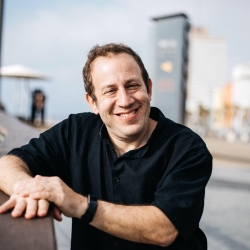 Latest posts by Jacob Maslow
(see all)
Images Courtesy of DepositPhotos
This site contains affiliate links to products. We will receive a commission for purchases made through these links.