Stress is a standard part of every person's life, but there are several solutions available to you to help you find relief from your stress. One of the most well-known methods to do so is using essential oils. There have been noticeable results from the use of essential oils through direct application and aromatherapy when it comes to reducing stress.
We have compiled a list of the 12 best essential oils for stress to help you find relief and equilibrium, so if you are finding yourself looking for a natural remedy to destress, just keep reading.
12 Best Essential Oils for Stress
Lavender Essential Oil
If you're in search of the best essential oil for stress, you should take a look at lavender. You will find it to be one of the most sought-after oils for relief from stress and anxiety. This has more to do with how effective it is to lower your heart rate and offer a calming effect. You can get a lavender essential oil roll-on for your temples or simply use it during a massage. It works wonders.
Our recommendation is NaturoBliss Lavender Essential Oil.
---
Chamomile Essential Oil
You may often find yourself reaching for chamomile tea when you feel overworked, but that is not the only form of chamomile that can help you. When feeling stressed, you can use chamomile essential oil to relieve the negative energy you're feeling. It is known to offer calming effects, reduce inflammation, and reduce your overall stress levels.
We recommend Chamomile Essential Oil by RAINBOW ABBY.
---
Bergamot Essential Oil
Another useful essential oil for you to try is bergamot. You will find this oil to have a slightly stronger, spicy, and aromatic tone to it. While it is known to be soothing, it is also quite potent when used alone. You can pair it with other oils that have a more flowery scent, such as lavender, to get the ultimate soothing effect.
Our top pick is Gya Labs Bergamot Essential Oil.
---
Sandalwood Essential Oil
You might have heard about the many benefits that sandalwood offers. It is not only good for stress but also provides a range of benefits for your skin. The woody aroma that this essential oil possesses is long-lasting and known to have soothing effects. Say goodbye to feeling stressed at all times by using this oil with an aromatic diffuser.
We recommend Sandalwood Essential Oil by Yelewen.
---
Mandarin Essential Oil
Mandarins are a delicious fruit, but it can also be useful in many other ways. For instance, mandarin essential oil will be perfect if you want a more peaceful sleep. The essential oil has properties that help boost your overall mood and help you relax. While it may not be popularly known, it proves to be the ideal choice when it comes to helping you destress after a long day.
We find Plant Therapy Green Mandarin Essential Oil perfect for stress relief.
---
Rose Essential Oil
Each essential oil focuses on a different kind of stress. Rose oil is known to help those who are suffering from stress that is related to loneliness. The calming effects it has to offer ensures that you feel at peace when you're alone rather than stressing about one thing after another. While you might think that rose oil would smell like a fresh bouquet of roses, it has a slightly different floral scent than that.
Rose Essential Oil by RAINBOW ABBY is our best pick.
---
Ylang-Ylang Essential Oil
If you wish to get your hands on an essential oil that does wonders for your central nervous system, then ylang-ylang is for you. It is one of the best essential oils to keep you calm and at peace. You can incorporate the use of this oil into your massages or get your hands on a roll-on for the ultimate effects.
Our best pick is Gya Labs Ylang Ylang Essential Oil.
---
Jasmine Essential Oil
Another popular essential oil that is used for stress, anxiety, depression, and insomnia is jasmine oil. It is perhaps one of the more widely used essential oils available in the market. The oil has an incredibly soothing effect as it helps to elevate your mood and keep energy levels high. You can use this essential oil directly on your skin or while you bathe. Either way, it proves to be highly effective for stress relief.
We recommend Jasmine Essential Oil by SENSELAB.
---
Valerian Essential Oil
If you're looking for something that offers sedative effects, then valerian oil is ideal for you. The herb has been put to use since ancient times and is now readily available in oil form. Valerian essential oil enables you to sleep better and has a calming effect on your nerves. The best way to use this oil is through aromatherapy, as it helps you feel relaxed.
We love Edens Garden Valerian Essential Oil and therefore recommend it.
---
Clary Sage Essential Oil
While clary sage essential oil isn't known to many, it proves to be one of the most effective essential oils out there for stress relief. The earthy tones this oil has in its scent are perfect for keeping you calm and stress-free. According to various studies, clary sage oil is an excellent antidepressant. It helps promote positive feelings in your body, which enables you to feel better overall.
Our top pick is Clary Sage Essential Oil by Sun Essential Oils.
---
Basil Essential Oil
You might not have heard about basil essential oil, but you should know about the fantastic properties it possesses. The herb itself is quite popular in Asian regions because of the many benefits it offers. The essential oil made using basil helps keep stress and anxiety levels at bay. It ensures that you remain calm and relaxed as it works its magic to soothe your nervous system.
We recommend Gya Labs Basil Essential Oil.
---
Vetiver Essential Oil
Vetiver essential oil originates from the vetiver plant that is present in India. While you might not commonly hear of this, this essential oil has anti-anxiety and stress-relieving properties. After careful research, it has also proven to have similar effects as that of diazepam, a drug known to help relieve anxiety and stress levels. The oil entails an earthy scent, which is long-lasting and allows you to feel relaxed. Use this with a diffuser to make the most of its benefits.
Our top pick is Plant Therapy Vetiver Essential Oil.
---
Final Thoughts
Indulging in essential oils can help you find relief from mild stress and anxiety. However, if you find yourself in a situation where you are suffering from chronic anxiety or excessive stress, then you should talk to a doctor for guidance.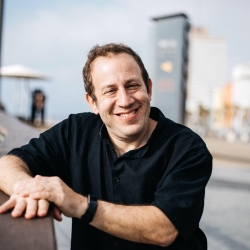 Latest posts by Jacob Maslow
(see all)