The pandemic brought a demand for increased telehealth, including online therapy. In addition, the need for mental health treatments continues to grow with increasing numbers of people experiencing anxiety, stress, depression, domestic violence, substance abuse, and suicidal thoughts.
All indications show that post-Covid, the demand for online therapy will not subside. Meanwhile, recent studies showed that online cognitive behavioral therapy is more cost-effective and provides the same value as face-to-face therapy for several mental conditions, including depression, panic disorders, and PTSD.
For people with limited means to access a therapist, online therapy offers them the ability and convenience to reach a licensed counselor or therapist with any device linked to the internet. However, some say it's not the same as visiting the neutral space provided by the therapist's office, especially for people who need to escape a hostile environment.
Let's consider the pros and cons of both traditional and online therapy:
Traditional Therapy
When a patient visits a therapist for any mental health treatment, they sit in the calm space of the therapist's office and have a face-to-face session lasting about 45-minutes. Researchers have shown that psychotherapy is often as effective as taking antidepressants for reducing the symptoms of mental conditions like anxiety, depression, and psychosis.
In-Person Therapy Pros
It allows the therapist to pick up on nonverbal cues that often support spoken communication. Nonverbal information can help a therapist better understand your needs. These signs include trembling fingers, fidgeting, clenching of the fists, etc. In some forms of online communication, nonverbal information is often also visible. Still, they can't see these signs if the patient is not visible to the therapist in a phone session.
Some patients do better in a neutral space during sessions, and a therapist's office provides a location where the patient can get away from their everyday life and where they can speak without fear of being overheard.
When intensive support like art, music, and play therapy forms part of mental health therapy, an in-office visit is best.
In-Person Therapy Cons
In-office therapy requires time spent traveling to and from appointments for the patient.
Accessibility to therapy sessions can prove difficult for some people who need public transport, especially if they have mobility issues or live far from access to a therapist.
 Taking time off work to get to therapy can prove inconvenient.
Lack of appointments in areas with few therapists often leads to long waiting periods for therapy sessions.
Some people worry about the stigma of visiting a therapist's office.

Online Therapy
Online or virtual therapy supports mental health issues from any location. Online treatment can include video calls, emails, phone calls, and text messages. There are several types of online therapy practices – either therapists with a personal practice can offer the service or an online platform with a network of therapists who provide sessions.
Online Therapy Pros
According to studies, online therapy is as effective as in-office therapy for several mental health conditions.
Prices remain more affordable since online therapists have lower overheads. However, in many states, insurance providers must also cover the costs of e-therapy.
People from remote areas or with physical limitations can have better accessibility to therapy sessions.
Virtual options allow people immediate access to a therapist from anywhere at any time, making online therapy convenient.
People with social anxieties often prefer avoiding in-person contact, choosing the easy access afforded them by virtual sessions.
Virtual therapy sessions ensure that no one else needs to see the person entering a therapist's office, helping reduce the stigma some people fear.
Online Therapy Cons
The therapy session can become frustrating and less fruitful if the patient or therapist does not have a good internet connection. A bad internet connection can also mean the patient cannot contact the therapist when needed.
Online therapy does pose some limits to the care they can offer. Two central problems include mental health conditions requiring special in-office treatments or burnout from overworked therapists trying to supplement their income with virtual sessions.
Some forms of communication have restrictions. For example, text and email messages limit communicating and understanding of some issues, and therapists can also miss nonverbal cues.
Privacy and confidentiality remain essential to all types of therapy, and some people worry about passing on information online.
Response mechanisms may not always be as fast with online therapists since technology might fail or distance can prevent them from accessing a patient during a crisis. Finally, people should not assume that an online therapist is available 24/7.
Online vs. In-PersonTherapy
These are the pros and cons of online and in-person therapy options. However, one thing is sure: more people now have access to therapy and support than ever before, and this guide can help them choose the type of therapy that best suits their needs.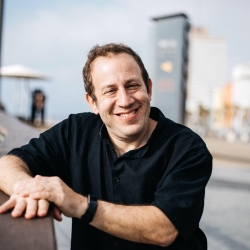 Latest posts by Jacob Maslow
(see all)