Asking "should we go to couples therapy" might feel relationship-ending, but it might end up being the best thing you can do for your relationship. However, evaluating your options before diving in — online therapy or in-person sessions is essential.
Today, we'll look at both types of couples therapy to help you choose the option that's right for you. BetterHelp online therapy and face-to-face couples therapy deliver similar helpful mental health resources differently.
So, let's explore a few characteristics of these couples' therapy methods to see which comes out on top.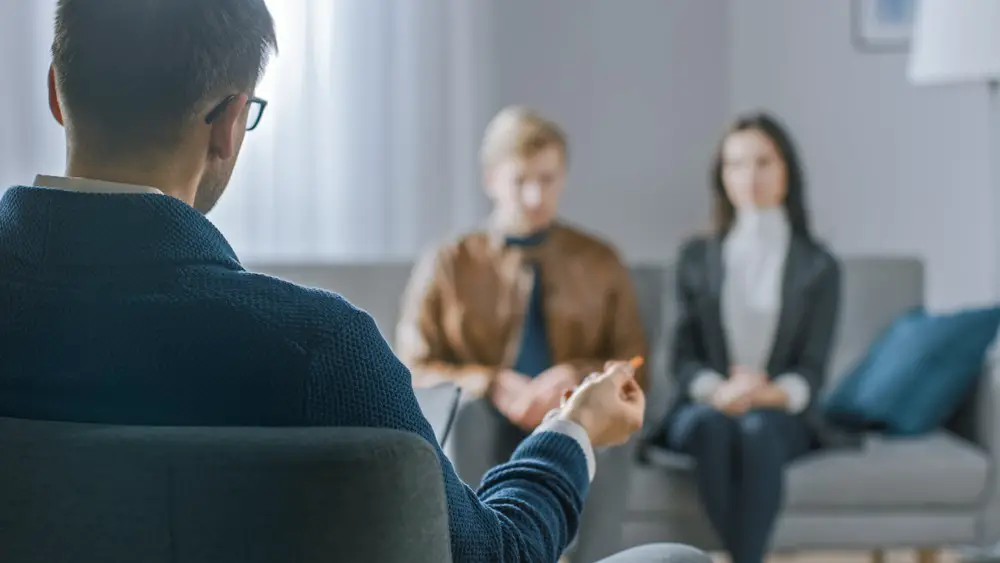 BetterHelp Couples Therapy VS In-Person Therapy — How We'll Compare Them
We will look at the two relationship counseling methods across five factors. While they might not determine one as being better than the other, they can help you understand the differences to discover which couples counseling option suits you and your partner best:
The therapists
Quality of therapy sessions
Ease of use/access
Cost
Customer care and privacy
The Therapists
BetterHelp
Perhaps the essential part of any couples counseling is the mental health professionals delivering the service — and BetterHelp boasts a massive array of highly qualified therapists.
The online therapy service boasts a stringent marriage and family therapist application process, ensuring they maintain top-notch quality. In fact, as per the company's report, they only accept 15% of mental health professionals who apply.
The application process is as follows:
They review the therapist's background, references, and experience.
They verify the counselor and their credentials.
The applicant undergoes a case study exam and video interview conducted by a licensed professional.
The candidate performs a platform skills rest.
If approved, the mental health professional is subjected to constant quality improvement, monitoring, and feedback during their time at BetterHelp.
On top of that, every couples therapist must have at least a master's degree in their field, be certified by the state's professional board, and have at least three years of hands-on experience.
It's safe to say that BetterHelp's couples therapists are incredibly qualified, allowing you to rest easy knowing you and your partner are receiving the best online therapy.
In-Person Couples Therapy
As you would expect, in-person mental health professionals must meet unbelievably high standards. So naturally, there is little difference between the two couples' counseling options.
Generally speaking, you need the following to become a qualified mental health professional in the face-to-face couple therapy sphere:
A Master's degree in a related mental health field.
Complete additional hours of supervised clinical experience.
Pass the necessary licensing exams and apply for couples counseling licensure.
Full ongoing educational and professional development.
How They Compare
Any legitimate therapy services require top-of-the-line qualifications from their therapists. There isn't an objective winner. Both online therapy and in-person relationship counseling offer only the best mental health professionals.
Quality of Therapy Sessions
BetterHelp
Regarding online marriage counseling, it's clear that BetterHelp couples therapy is a front runner. The quality of the therapy sessions is unbelievable. For many users, the diverse range of counselors and the spectrum of mental health resources delivered in their homes boost the standard.
Virtual sessions from BetterHelp set the bar aggressively regarding experience, qualifications, and licensing. The therapists have an astute understanding of scientific, real solutions proven to provide real relationship results.
In-Person Therapy
Face-to-face, direct contact with a relationship counselor can help most couples speak openly about their issues and, thus, get the support they need. Top that with high-grade mental health professionals with a near-unbeatable session quality.
In addition, a mental health professional in a face-to-face setting can prescribe medication. Sometimes, relationship problems occur when communication breaks down due to one partner's poor mental health. If that's the case, the therapist can offer psychiatric care for one party, improving the relationship as they go.
How They Compare
We think in-person relationship counseling wins this category. Why? Because online therapy professionals can't prescribe medication if required, which may offer more long-term benefits than simply speaking openly.
Ease of Use/Access
BetterHelp Marriage Counseling
The best therapy sessions on the planet won't work if you can't easily access the support. And online therapy is perhaps the most straightforward treatment to obtain.
Both the BetterHelp app and website provide a wide range of straightforward relationship counseling resources and tools. Whether you use this site on a desktop or mobile, it's a streamlined process.
You can get access to online couples counseling in just 30 minutes by:
Completing the online therapy questionnaire — Identify the areas you and your partner need help with. It starts with demographic questions before moving on to preferences about therapy sessions.
Make your account — Sign up through Facebook or Google, or enter your details manually.
State what you're looking for — Indicate whether you have a counselor's gender, religion, sexual orientation, or religious preference.
Matching — The algorithm matches you to the best mental health professional. It doesn't always work perfectly, but changing your match is easy.
Confirming and paying — Choose how you'd like to pay. Your online counseling membership begins the moment you start speaking with a therapist.
Communicating — Once you have a match, you can schedule virtual sessions regularly, email your couple therapy professional, and access 24/7 chat.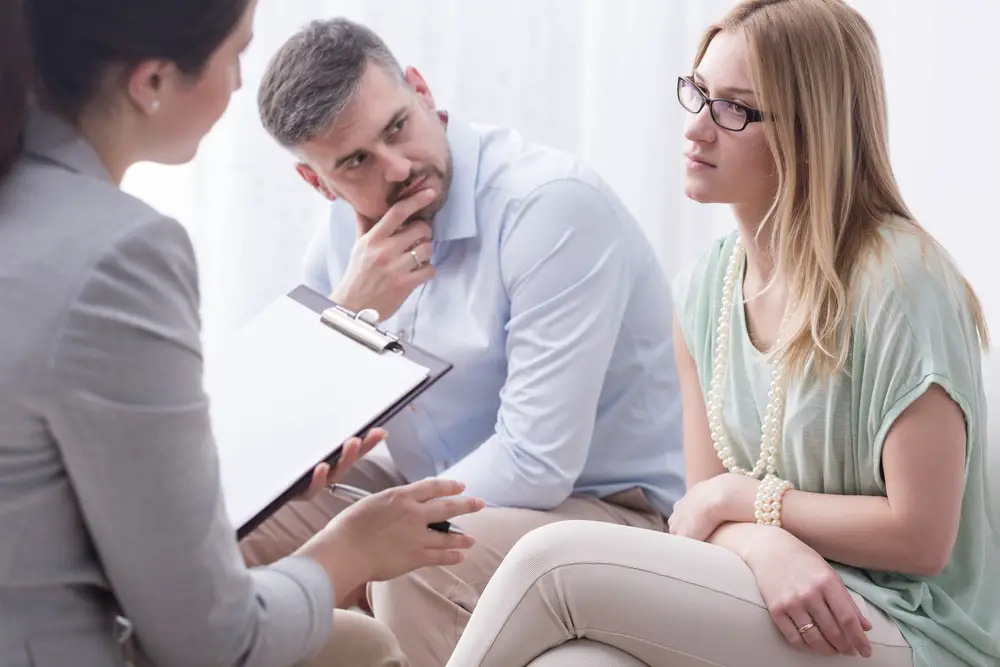 In-Person Sessions
Accessing the support you need from a not-online counselor is time-consuming. It could take anywhere from a couple of weeks to a few months to access treatment because you need to find a relationship counselor with whom you can feel vulnerable.
Ideally, you need to talk with your partner to find out what they're looking for from your relationship therapy efforts. Then, find a therapist who fits the mold.
Usually, getting a referral from your doctor is the quickest way to access a high-quality therapist face-to-face. However, it can still take an excessive amount of time.
How They Compare
BetterHelp is the clear winner here. You can access live sessions from anywhere — even your own home — in just half an hour. Plus, you receive improved communication with your counselor thanks to the variety of chat channels provided by the service.
Cost
BetterHelp
While it isn't free, BetterHelp is priced reasonably compared to other online counseling providers.
The standard per-week rate is $60-90 (paid every four weeks). However, if you receive financial aid, the counseling cost can be reduced substantially. To receive reduced prices, you must describe your economic state as poor or fair and be at least one of the following:
Student
Veteran
Disabled
Employed with low income
Impacted by the coronavirus pandemic
In-Person Couples Therapy
On average, treatment from a face-to-face relationship therapist can cost anywhere from $75 to $150 per hour. However, the range is $50 to over $200 per hour. The cost to you and your partner depends on your location, the counselor you choose, and the type of sessions required.
Unfortunately, your health insurance won't cover the fees, making it even more costly.
How They Compare
Relationship therapy from BetterHelp wins this round too. It provides you with immediate partner support at an affordable price. In-office relationship counseling sessions are typically much more expensive.
Customer Care and Privacy
BetterHelp
BetterHelp boasts an impressive dedication to customer privacy and attentive communication.
Generally speaking, your therapist replies within 24 hours, but most offer near-instant assistance. Plus, they answer questions and concerns with a healthy degree of personalized care.
As per the company's regulations, all mental health professionals on the app adhere to HIPAA (Health Insurance Portability and Accountability Act) regulations to protect you and your partners' information. You can also add another level of anonymity by using a nickname when chatting with your therapist.
In-Person Couple's Therapy
Typically, you can't communicate with an in-office relationship therapist out-of-hours. But this may change in specific crises.
You can rest easy knowing that your therapist operates under state and federal HIPAA laws.
How They Compare
Even though your information is safe and secure with face-to-face and online therapy, BetterHelp wins on the customer care front. It provides 24/7 communication channels that in-office counselors do not (usually).
The Breakdown
There are multiple distinctions between the two methods, as summarized below:
| | | |
| --- | --- | --- |
| | | |
| | Stringent application process, at least a master's degree in the chosen field | At least a master's degree in the selected field continued professional development |
| | A diverse range of counselors, lots of mental health resources | Face-to-face gains trust, psychiatric care if needed |
| | Get help in just 30 minutes with 24/7 live chat. | It can take weeks to find a therapist you and your partner like |
| | $65 to $80 per week | $50 to over $200 per hour |
| | HIPAA-protected, lightning-fast responsive times | HIPAA protected, usually no out-of-hours communication |
Final Thoughts
While therapy in any sense is a positive notion — you're taking a purposeful step forward — BetterHelp comes out on top in many categories, making it the superior choice. However, it's important to note that if you're seeking emergency help, a face-to-face therapist is usually the better route.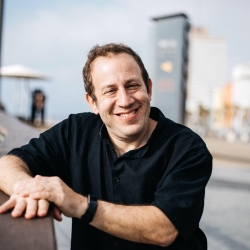 Latest posts by Jacob Maslow
(see all)
Images Courtesy of DepositPhotos
This site contains affiliate links to products. We will receive a commission for purchases made through these links.