Passion and becoming parents don't seem to go hand-in-hand, but intimacy is vital to every lasting relationship. The more a couple can connect after the birth of their first child, the more passion reignites.
Coming home with your first baby can cause every parent to feel overwhelmed. Within the first few days, it's normal for both parents to feel exhausted. Added to these feelings, a new mother must also deal with anxiety, insecurity, soreness, and hormonal changes that can initially affect their desire. Nursing, a negative body image, lack of privacy, and depression are some more reasons that can dull your desire.
Then again, your partner will experience anxiety and jealousy of the intense relationship between your firstborn and you. He may also experience dread after several weeks of inactive sex life and a fear of hurting you.
Therefore, all these, combined with different priorities and attitudes, can make finding fulfillment at a personal and relationship level difficult. It requires a lot of determination from both partners postpartum as you figure out how to add your needs as a couple to those of a demanding baby.
1. Rely on Compassion to Reignite Passion
It is okay to have contrasting sexual desires. For example, dads can feel jealous of the attention you pay to your baby, while you could think that your partner's sexual urges are unfair at this time when you feel so overwhelmed and tired. However, these differences shouldn't spark moments of shame or conflict because they can instantly dissolve intimacy.
Compassion is the answer to understanding each other's desires and fears, making it easier to find ways to combat these feelings as you rediscover each other again.
2. Make Some Couple Time
Going from a couple to parents brings a significant little person into the equation. Yet you must focus on the importance of your relationship as much as on your baby.
Responses to the National Survey of Marital Strengths found that more people in a happy marriage ticked the answer: "My partner focuses as much on our marriage as our children."
Making some couple time is more than just about sex and includes sharing experiences that encourage connection and intimacy. Perhaps before having a baby, you relied on spontaneity. Still, now that you have such a few moments together, you should schedule your connection, even if it's just for a few moments of intimacy without sex.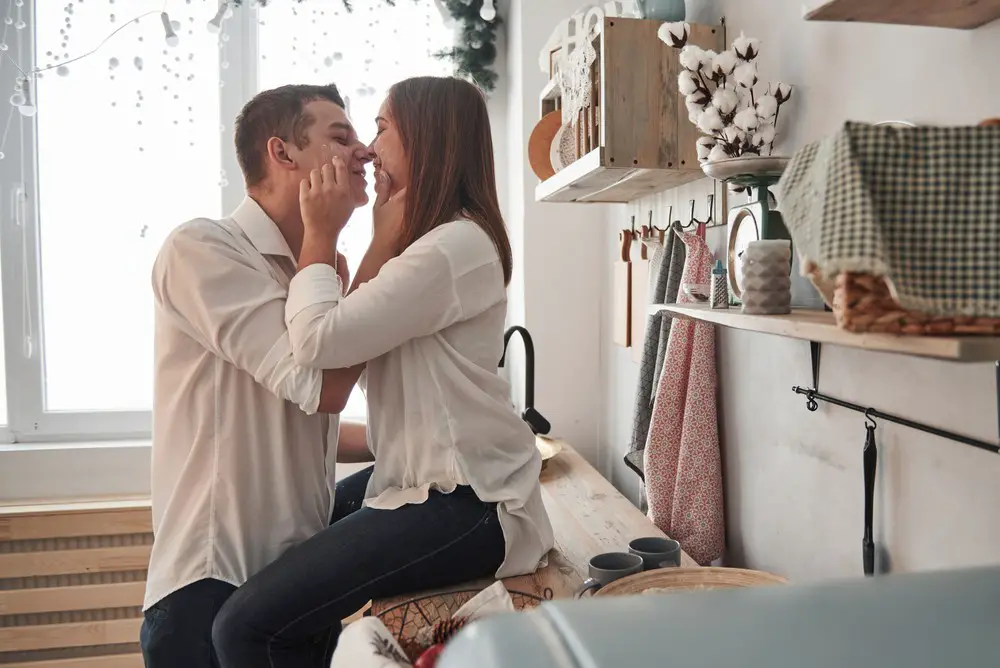 3. Get Creative
Intimacy and sex need not constantly occur in the bedroom at bedtime, especially if you have a baby sleeping in your room or bed. If you want to reignite the passion, get creative about where and when you can enjoy an intimate moment.
Remember that reversing roles, especially sexual, can increase the closeness you desire after having a baby. For example, initiating sex instead of always just responding is one way of using innovation to inspire intimacy and reignite passion. In addition, role reversals are a fun way to take you out of your comfort zone as a couple, so explore its possibilities in more activities.
4. Passion Starts With Small Signals
Rekindling your sex life does not necessarily require a getaway weekend or hours away from your baby. Sending small signals you know will turn each other on can instantly rekindle desire. Of course, these signals will depend on the things you know about each other from before the baby came along, but you need to find innovative ways to pass them. Anything from an impromptu note, a kiss, getting into bed naked, a specific look, or a private email should suffice to send the message across.
Never underestimate the power of a sensual touch or deep kiss to help you reignite the passion. Even a quickie can restore your sex life by reminding you what you miss most about each other.
5. Making Me Time
A new baby demands much time, often from both parents, meaning you can quickly become disconnected from each other. However, as parents, you must make time for yourselves to help you improve your self-love and nurture your sensuality, especially moms.
6. Teamwork at Home
Housework and child care often fall onto the mother; despite some significant changes in gender roles. However, a study in the Journal of Family Issues found that couples that share household chores enjoy more intimacy and sex. Therefore, rethink your division of labor and childcare at home and share the responsibility more equitably.
Final Take
Adjusting to a parenting role while keeping your relationship alive requires serious juggling, but it is possible. The sooner you reconnect as a couple after the birth of your first child, the more you honor your relationship and keep it fulfilling. Remember that you are the best example for your kids, and the more loving relationships surround them, the better human beings they become.